Reconstruction of the Poste H on the island of La Réunion
The company Négri has built 4 dolphins at the entrance to the West port, on Reunion Island.
These structures are made of monotubes of 1600 mm diameter, embedded in the difficult volcanic soil of the island. These structures have been completed with access footbridges and a concrete pier, thus constituting a complete berth.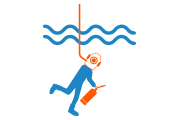 localisation
Ile de la Réunion, French overseas departments and territories